Athletic Trainers + Telemedicine – Increasing Access to Expert Care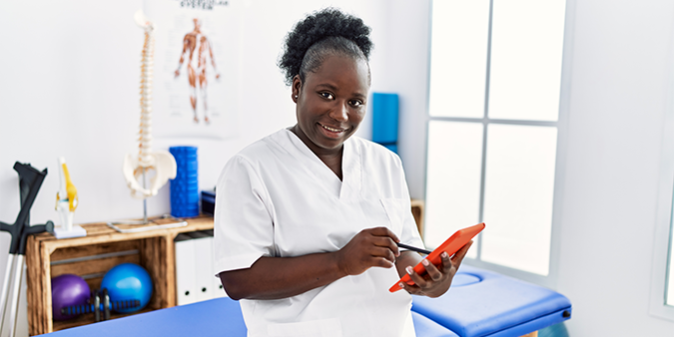 Learn how the benefits of athletic trainers can be made available to your workforce via telemedicine
March 20, 2023
This is the third blog in CAREonsite's series that explains how businesses can best utilize athletic trainers to improve the care and wellness of their employees. If you want to start at the beginning of the series, please go here.
Athletic Trainers – Caring for the Industrial Athlete
In the last blog we explained how athletic trainers (ATs) are an excellent choice to care for your workforce – because like professional athletes, the industrial athlete has a physically demanding job that can result in similar musculoskeletal injuries.

The expertise of ATs helps companies better manage common musculoskeletal injuries like strains, sprains, and tears. But what can your company do when:
Your size, location, and budget make it difficult to have an athletic trainer on-site?

You are looking for a way to improve and support your existing occupational medical solution with the expertise of an athletic trainer?
Merging the Benefits of Athletic Trainers with Telemedicine
With the rise of telehealth, providing your industrial athletes with preventative and injury care from athletic trainers is now a realistic option. Virtual AT programs increase access to expert care that improves health outcomes and injury management metrics for common workplace injuries.
An Overview of Virtual Athletic Services
Below are services ATs can provide virtually. This allows them to be a valuable resource for your EH&S team by giving them a platform to care for employees across the country.
Fully Virtual:
Injury management (musculoskeletal, first aid, concussion care)

Job-specific post-injury management through the development of individualized job conditioning programs
Based on initial in-person physical demand analysis (PDA) with virtual follow-up:
Injury prevention through ergonomic assessment and evaluation of job function

Development of customized stretching and strengthening programs
An AT can virtually work with your company's health and safety team and help build customized preventative programs. An AT can review a Physical Demands Analysis (PDA) or detailed job description to identify high-risk areas and build stretching and job conditioning programs to help reduce the risk of injury. Programs include visual guides, and employees can meet virtually with an AT for job conditioning consultations. Preventing injuries is the key to reducing healthcare costs for employees.
A virtual AT can be an active part of your workplace injury management and provide a cost-effective way to offer your employees access to an expert in musculoskeletal injuries. They are available 24/7/365 anywhere you need them and eliminate the need for travel and wait times for appointments. Virtual consultations and assessments via a face-to-face virtual platform improve access to quality care that avoids unnecessary treatment and improves healthcare outcomes.
An AT can meet with the employee virtually and help them safely return to full work with job-specific post-injury management. An employee connects with an AT virtually and is guided through appropriate stretching and strengthening exercises. These programs can reduce the risk of re-injury and help prevent other injuries in the future.
The Benefits of Virtual ATs
A cost-effective solution to better manage common workplace injuries.
Improve access to care for underserved worksites – no more waiting in clinics

Face-to-face visits with certified ATs improve injury outcomes

Provides worksites that cannot justify a full-time trainer access to a certified AT

HIPAA-compliant platforms that easily integrate into your health programs

Virtual preventative assessments, including ergonomic and job requirement risks – focused on preventing the future injuries

Improved employee and employer satisfaction
In the next blog in our series, we will take a deeper look at the preventative solutions athletic trainers offer, including various assessments, physical conditioning, and wellness initiatives.
Need an Athletic Trainer?
CAREonsite offers access to Athletic trainer services on-site and virtually. Find out more about this and other services here.