How Athletic Trainers Can Benefit Occupational Healthcare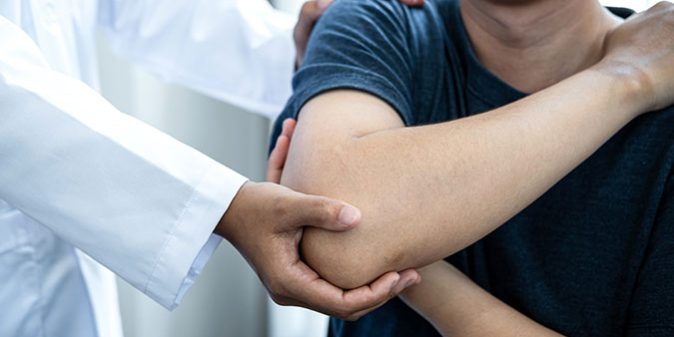 Can your workplace benefit from athletic trainers (ATs)? Read on to learn how athletic trainers can be a valuable addition to your occupational health team and save your business time and money.
January 18, 2023
The first blog in a special CAREonsite series that explains how businesses can best utilize athletic trainers to improve the care and wellness of their employees.
If you're an EH&S manager, you know that musculoskeletal injuries are extremely common and that they can be a drain on time and resources. In fact, according to OSHA, these types of injuries account for more than 50% of all workplace injuries.

Work-related musculoskeletal injuries, particularly those related to repetitive motions, are very similar to those encountered in professional sports. While athletic trainers (ATs) are better known for keeping athletes injury free or helping them return to form safely following an injury, their skills can also be utilized to do the same for your workforce.

Athletic trainers help develop industrial athletes and their expertise can reduce sprain, strain, and tear injury concerns.
Athletic Trainers Are Highly Trained
ATs provide more care than simple first aid and ice, they're certified medical professionals who are directly supervised by physicians. Aspiring athletic trainers must endure a rigorous regimen of coursework, clinical experience, and certifications that include: 


A Master's degree in Athletic Training (MAT) 

Fieldwork in college/high school athletics or in a hospital/clinic setting 

Board exam certifications with a license in all states and territories except California, where they need to be registered
How Athletic Trainers Can Help
Athletic trainers (ATs) can help to identify potential hazards in your workplace and teach your workers to actively prevent injuries from occurring in the first place.

These types of injuries not only disrupt productivity they're extremely costly to employers. According to OSHA, employers spend more than $20 billion a year on sprains, strains, and tears alone. To combat rising costs, ATs have the following money-saving capabilities:


Conducting injury prevention programs, movement screens, and ergonomic assessments 

Assisting with employee warm-ups and wellness programs

Providing on-site injury care to reduce the need for ER visits and unnecessary escalations 

Providing telemedicine for companies that have field services or don't have on-site care  
The second blog in CAREonsite's special series will review how athletic trainers can elevate workplace medical care.
Need an Athletic Trainer?
CAREonsite offers access to Athletic trainer services on-site and virtually. Find out more about this and other services here.