How Athletic Trainers Elevate Workplace Medical Care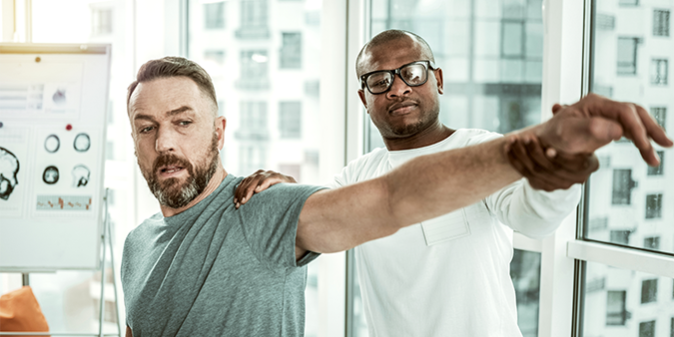 Are strains, sprains, and tears common at your worksites? Learn how on-site care from athletic trainers can benefit your workforce.
February 21, 2023
This is the second blog in CAREonsite's series that explains how businesses can best utilize athletic trainers to improve the care and wellness of their employees. If you have not read the previous blog, please start here.
According to OSHA, more than 50% of workplace-related injuries are musculoskeletal in nature. While musculoskeletal injuries can happen in any profession, those working in manufacturing, construction, and warehousing can be especially susceptible. Having a licensed athletic trainer on-site can make a difference because they have more expertise in treating orthopedic injuries than an EMT or nurse.
Caring for the Industrial Athlete
Aren't athletic trainers only for sports?


Don't be misled by the name, athletic trainers have an important role to play in many fields.


While their educational background is geared toward treating sport-related injuries, workforces in manufacturing, assembly, construction, and other industrial settings can be just as active and physically demanding as a sports team. Sometimes more so.


Like athletes, workers require on-the-spot medical attention to minimize an injury's severity and reduce downtime when an incident happens. As a result, ATs can be valuable occupational health team members, improving patient satisfaction while helping to reduce healthcare costs and recordable injuries. In addition to their orthopedic specialty, there are numerous other benefits to having an AT on-site and at the ready.
Emergency Care and First Aid 
ATs can quickly identify sudden illnesses, including strokes or cardiac, diabetic, pulmonary, and environmental emergencies



They have extensive clinical experience working in care



ATs can help organizations evaluate emergency action plans, conduct employee emergency response training, and lead emergency response teams
Acute &  Chronic Injury Evaluation 
ATs can conduct immediate injury evaluations, help identify potential risks to other employees, prevent emergency room visits, and streamline a referral process if needed



They are highly trained in evaluating and treating orthopedic injuries, both acute and chronic



ATs can help employers identify alternate job duties that will not aggravate an injury. This can avert a repeat incident and further injury risk. 
Working Directly With Other Healthcare Providers 
ATs are physician-supervised and work directly with healthcare providers of all types. This allows for a smooth process when escalation is deemed appropriate.



With their emergency response training, ATs are uniquely qualified in the proper escalation of injuries or illnesses, be it to an emergency room or immediate evidence-based, on-site treatment
With a background in athletics, ATs are well-versed in effectively communicating with a variety of stakeholders (physicians, coaches, administrators, parents, and athletes). This skill can provide a huge benefit in an occupational health setting.



ATs can also provide an objective voice in accident and injury investigations
ATs – A Valuable Addition to On-Site Occupational Care
The bottom line is that having an AT on-site means you have a versatile, trained healthcare provider available who can effectively respond to sudden injuries or illnesses. Additionally, they can enhance the training of your emergency response team and are knowledgeable about proper healthcare escalation.

Athletic trainers are not just for sports – they have an important role to play in elevating your workplace medical care.
The third blog in our athletic trainer series will explain how your business can offer the expert care of athletic trainers via virtual services like Telemedicine.
Need an Athletic Trainer?
CAREonsite offers access to Athletic trainer services on-site and virtually. Find out more about this and other services here.